Company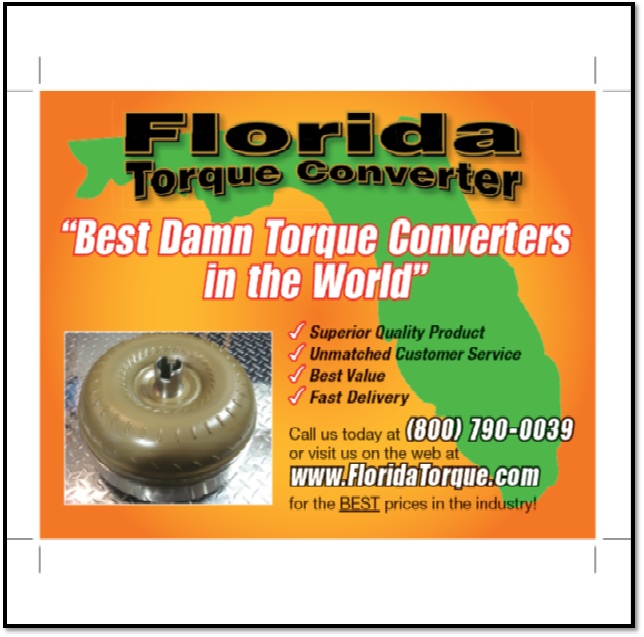 Why Florida Torque Converter has the best quality
At Florida Torque Converter we take pride in our products. When we remanufacture a torque converter we make it better than it was when it was new. We use remanufacturing techniques and materials that exceed the original manufacturer's specifications. The end result is a BLUEPRINTED* torque converter that will perform better than the original.
Unlike other "mass produced­ remanufactured torque converters, our technicians keep all of the original torque converter parts together during the remanufacturing process to assure a matched set of components. Other remanufacturers disassemble hundreds of torque converters and mix all of the parts in large bins. Our experience shows that keeping the parts together results in improved quality.
We scrap and replace any marginal parts. We take the TIME to build quality into each and every Torque Converter we build. Our investment in the latest quality machinery allows are craftsmen to make sure your product is superior. From years of experience we have invented our own custom tools and fixtures to constantly improve the quality and efficiency of our operation. Thorough quality testing is performed on each and every Torque Converter before it leaves our facility. Check out some of the things we do to make our torque converters better with our Remanufacturing Process. Inventory
We have thousands of Torque Converters in Stock and ready to ship. If you don't see the Torque Converter you need in our catalog, call us 1-800-790-0039 and one of our experts will tell you how fast we can remanufacture yours. If you want to change the stall speed or need any other custom changes just ASK. We can customize any torque converter to your specifications.