Company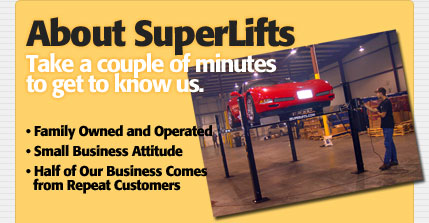 We're very proud to bring you our updated website for 2005. You can browse through our full line of products, see details and specifications, and we've added a section devoted to the most important part of our business — our customers. You can view product photos taken and sent in by our customers all over the country.
SuperLifts is a family owned and operated company in Aurora, Missouri. We're about an hour from Branson, thirty minutes from Springfield and Joplin. Aurora can be a little hard to spot on a map, but we feel right at home in a small town.
We know we're not the biggest lift company out there, but we're pretty sure we're the best. Call us and you're going to talk to someone who knows what's going on — there's a good chance it might even be the owner.
No matter how big we get, we're committed to keeping that small town attitude by making sure we take good care of our customers. We've done a great job so far. Over half of our business comes from repeat customers. That fact lets us know that we're doing something right.
2005 is going to be our best year ever, and we hope we can help to make it yours as well.